Gift Suggestions from the Wintry World of Penguins & Polar Bears
We are fascinated with penguins and polar bears -- two animals associated with Arctic weather, but from polar opposite areas of earth. The popularity of these animals can be seen in every form of product, from books to plush animals to clothes and jewelry.
This enchantment with penguins and polar bears perhaps stems from the fact that -- except for zoos -- most people will seldom see one up close, and almost never in their natural environments.
Presented here are wonderful examples of penguins and polar bears in every medium imaginable, many of them handcrafted by Indie artists.
Penguins and polar bears can never meet without human intervention, because the two species are found on opposite hemispheres.

Polar bears inhabit the Northern Hemisphere and all penguin species live in the Southern Hemisphere.
PENGUINS


What Do You Know About Penguins?
A List of Fun Facts:
Penguins are flightless birds that are adapted for life in the water. Their wings have become flippers. They spend about half of their lives on land and half in the oceans.

We usually think of penguins living in the cold climate of Antarctica, but different varieties of penguins can be found throughout the Southern Hemisphere.

Penguins come in many sizes. The largest is the Emperor Penguin, which is about 3-1/2 feet tall and weighs around 75 lbs. The smallest is the the Little Blue Penguin (also known as the Fairy Penguin) which grows to about 16 inches tall and weighs just a bit over 2 lbs.

We tend to refer to the penguins' coloring as "Tuxedo". The black backs and white fronts are protective markings. A predator looking up from below in the sea has trouble distinguishing between a white penguin belly and the reflective water surface. The black back camouflages penguins from predators from above. (Isn't Nature clever?)

Penguins eat fish, squid, and other forms of sealife caught while swimming underwater.
Play with a Plush Little Blue Fairy Penguin Toy
This plush penguin is my interpretation, in crochet, of Australia's real life "Little" Penguin. In the past, they were known as Blue Penguins and Fairy Penguins, and are now officially known as "Little Penguins. The name "Blue Penguin" comes from the fact that they are actually blue in color.
These Fairy Penguins can also be found in New Zealand.
Little Blue Fairy Penguin in plush crochet, plus toy penguins in a variety of colors, including the classic Tuxedo black & white penguin, can be seen in the Etsy Shop of Coastal Crochet Crafts.
Penguin Tea Towels


This is a unique winter dish towel made with cream color flour sack material featuring a purple penguin wearing snow shoes.
Mark & Cynthia of Canada personally hand draw all the designs and hand pull all screen print images. The printed flour sack tea towel is eco-friendly, non-bleached, 100% organic cotton. They are nice and thick and will stand up to everyday wear. High quality water based inks that are earth friendly and long-lasting are used.
This penguin tea towl can be found in the Etsy Shop of

H.E.A.P.S. Handworks

(health-energy-abundance-passion-sharing), a shop filled with hand-printed goods, personalized artwork for home and baby.
Penguin Soap Set
Decorative, Useful & Fun for the Bath
LoveLeeSoaps is the Etsy Shop of Leeanna of Daytona Beach, Florida. Leeanna is a soapmaker who creates a practical product we all need ~ in shapes to delight.
These Penguin Soaps are the perfect complement to your Penguin-Theme bathroom.
The set includes 6 mini penguin soaps with a delicious black cherry scent.
Leeana features soaps in animal, food and fun shapes, along with bath and body products. Perfect for gifts, wedding favors and baby showers, and your own home decor.
Penguin Perfect for your Wintertime Coffee!
Celebrate Penguin Awareness Day on January 20th and World Penguin Day on April 25th and remember the penguins all year long when drinking your coffee from this adorable Penguin coffee cup.
Penguin Storybook for Kids
These little penguins work hard, swimming, hunting for fish, and helping their other marine friends like the polar bear and the walrus. But what do they do for fun?
Come see how they plan a vacation and have a few adventures, including meeting some new friends, in their 'Penguin Getaway'.
Penguins Have Their Day!
Penguin Awareness Day is January 20

World Penguin Day is April 25 - which coincides with the annual northward migration of penguins.
POLAR BEARS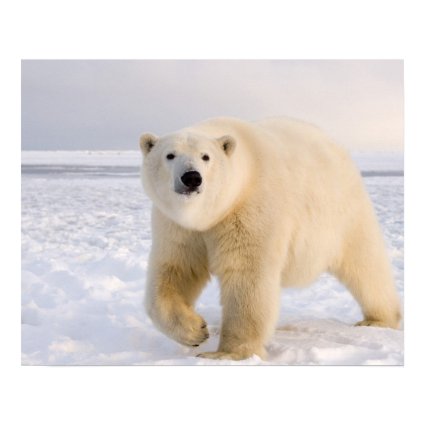 Fun Facts About Polar Bears:
Polar bears live in the arctic circle and can roam as far south as the northern edge of Canada.

There are about 20,000-25,000 polar bears in the world today. They are related to the Brown Bear, but their bodies have adapted for cold temperatures, for moving across snow, ice, and open water..

Polar bears are considered to be marine mammals because they spend most of their life at sea. Their scientific name means "maritime bear".

Polar bears live where the sea ice meets the open water, to easily hunt the seals that make up most of its diet. They sometimes float a long way on the sea ice, and spend most of their time at sea. .
Polar Bear Waldorf Toy
Handmade with a scroll saw in Maple Wood
Made by Susan in Wentzville, Missouri, her wooden toys are hand cut on a scroll saw, sanded smooth, and finished with a natural beeswax and organic jojoba oil polish.
This bear stands
stands 3 5/8" tall and is 5 1/2" long. The bear was cut from 1" thick maple.
Perfectly sized for little hands, with rounded edges and an all natural polish.
This polar bear and a large variety of other wooden animals and toys can be found in Susan's Etsy shop she calls "Ooh Look, It's a Rabbit!"
Amigurumi Crochet Plush Polar Bear
Come meet a cute little polar bear in plush, handmade in crochet with white acrylic yarn. Polar Bear plushie has embroidered black eyes, nose and claws on the feet. He has such a sweet face.

Polar Bear is just a baby. He measures 8 inches long (9 inches long if you count his tail) and about 4 inches high. He is softly stuffed with new polyester fiberfill and is very huggable. He can be found in the Etsy crochet shop of Coastal Crochet Crafts.

Baby polar bear is looking for a warm toybox to live in. He's tired of the cold and snow at the North Pole. :-)
Polar Bear Story Book
A little girl finds having to write a book report for school about a polar bear boring until a giant polar shows up and whisks her away to his home in the arctic where he gives her a personal tour. She learns all about what polar bears eat and what they like to do and all the 'wonders' of their world.
Beautifully illustrated with watercolor images that capture the vastness and beauty of the arctic region that will fascinate children in the 4-8 year old range.
This adorable plush Arctic polar bear is part of the Aurora World wildlife and stuffed animals series of Arctic animals.
Measuring 10 inches tall, little polar bear is a sweet and soft toy bear ready to be cuddled and loved.
February 27 is Polar Bear Day!
Polar Bear Day celebrates the world's largest carnivore.