The Color Yellow Gives Us a Mellow Feeling!
When I think of Springtime, the primary color that comes to mind is 'yellow'. Sure, the new green buds appearing on the trees are noticed as a fore-bringer of Spring, but yellow stands out brightly in the early blooming Daffodils and the golden warming rays of the sun.
Spiff up your house for Spring with Yellow accessories, get a gift in Yellow for those Springtime holidays, birthdays or special occasions, or just add some touches of Yellow here and there for the warm, glowing, Spring feeling the color yellow gives you.
Sunny Yellow for your Wall
To me, nothing is sunnier looking than a Sunflower. Having a Sunflower on your wall is a welcome sign of Spring. Yellow is also a symbol of happiness and hope. No wonder sunny yellow makes you feel happy!
Yellow Bird Song by The Kingston Trio
The song "Yellow Bird", was first recorded in 1957 and is probably best known by Harry Belafonte, but my favorite version comes from MY folk music era by 'The Kingston Trio'. Listen to this mellow music while you browse these Yellow Gift Suggestions.
The chirping of birds is a sure sign of Spring!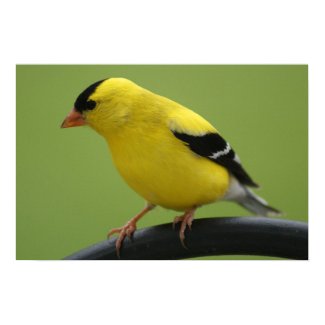 The Goldfinch is the state bird of New Jersey, Iowa, and Washington. It loves sunflower seeds at feeders.
This Goldfinch yellow bird photo print by SuRI Photography is available on Zazzle makes a lovely Springtime print for your wall.
Early Morning Coffee on the Deck
Nothing I like better in the Spring than being able to sit outside on the deck with my morning coffee. The warm air with the scent of the springtime blossoms on the dogwood trees and the twittering of the birds is a very relaxing way to begin your day.
Start your Day with A Cup of Coffee or Tea
...In a sunny Sunflower Mug!
Having lived in Kansas (and married to a Kansas boy), Sunflowers have naturally become a favorite flower in my life and in my home.
This is such a bright & sunny start to my day to have my morning coffee in a Sunflower mug. Available on Zazzle, this beautiful cup is created by Patti J. Adkins.
Yellow Floral Dishtowel for a Cheery Kitchen


This is a great updated version of the crocheted top towel. Handmade with a fabric top,
it buttons securely around your oven or refrigerator door, keeping it where it belongs and handy for you to use.
This is a quality velour half towel in
yellow and white with a circle of flowers and the words "Always Be Blooming" in the center. The buckle is orange and yellow with a lining of white flannel to keep it rigid. It is topped with a yellow button.
This cute kitchen towel is available in the Etsy Shop of Grandma Linda's House. Just click on the picture to see a close up view.
Fill your bathroom with a whole set of bright and cheerful sunshiny yellow towels and washcloths.
Get whimsical with a 'Yellow Ducky' Bath or Shower Safety Mat.
This fun Duck-adorned bath mat has secure grip suction cups minimizing the risk of slipping in the tub and is easy to clean.
Bring the Color of Spring... Into the Bedroom or Living Room
Bring Spring inside by decorating your bed or living room sofa with pretty pillows. My favorite is a design of yellow flowers, like this beautiful yellow Daylily.
This bright flower design will bring a touch of Spring sunshine into your home.
Yellow Gift Suggestions for Springtime Occasions!
New Baby, Birthdays, Weddings,

Easter Holiday....
This handmade crocheted plush penguin toy in a bright yellow color makes a darling baby gift for a baby shower in the Spring.
This cuddly little roly-poly penguin is the creation of Coastal Crochet Crafts on Etsy and is just one of several plush penguins available in traditional black & white and in a wide variety of different colors.
Handmade Paper Quilled Springtime Yellow... On a Greeting Card
Beautifully handmade in paper quilling, this lovely greeting card is perfect for a springtime birthday.
What better way to add a little sunshine to anyone's day than with this pot filled with flowers!
A pot filled with flowers, what better way to add a little sunshine to anyone's day!
My handmade paper quilled cards are ones that not only can you visually enjoy, but ones that you can actually delight in the feel of them!
This cream card measuring 4½"x6" or 11cm x 15½cm it has been overlaid with scroll paper then a panel of gold shimmer card stock and gold corner edges.
Decorating the middle of the card is a border of white lace, with a gold pot filled to overflowing with various coloured fringed flowers.
Elegant green scrolls and spears of yellow leaves completes this unique floral arrangement.
A printed tag message "Happy Birthday" with white seam binding attached to give it the shabby look.
Perfect greeting card for this special occasion.
Inside the card is a yellow paper insert awaiting your own personal message.
Created by an Australian paper designer using the creative craft of paper quilling,

Enchanted Quilling also has a wonderful selection of other cards in her shop that are perfect for other Spring occasions (Easter or Mother's Day). This card, and many more, can be found in her Etsy shop she calls Enchanted Quilling.
Which is YOUR favorite Springtime Color?